Political Cartoons: From Herblock to the Present
One of my skills is illustrator and I have always loved political cartoons in particular. One of my all time favorites was the great Herblock. When I did the political cartoon for the 'Yellow Jacket' newspaper at West Virginia State University, I always referred to his  art for inspiration. That was 1983-1986. Now I am very proud to be speaking on Herblock's work and life in March at: Political Cartoons: From Herblock to the Present, located at the Kanawha County Main Library, downtown Charleston.
Here is some more information: Join local entrepreneur Mark Wolfe for a look at the life and work of political cartoonist Herb Block. Herbert Block (1909-2001), better known as "Herblock," became the most honored cartoonist of his time, winning three Pulitzer Prizes, and sharing a fourth for his Watergate cartoons which contributed to the resignation of President Richard Nixon. He was the only living cartoonist whose work was exhibited in the National Gallery of Art, and the only living cartoonist to receive the Presidential Medal of Freedom. Mark Wolfe was a political cartoonist for West Virginia State College's school paper from 1983 – 1986. Block was his inspiration and he owns all of his books. Mark is also the owner of his own successful company Mark Wolfe Design. His company has won several regional and state-wide awards, including 2008 West Virginia Main Street Business Person of the Year. A special traveling exhibit from The Herb Block Foundation will be on display on the first floor during March. For more information, go to http://herbblockfoundation.org.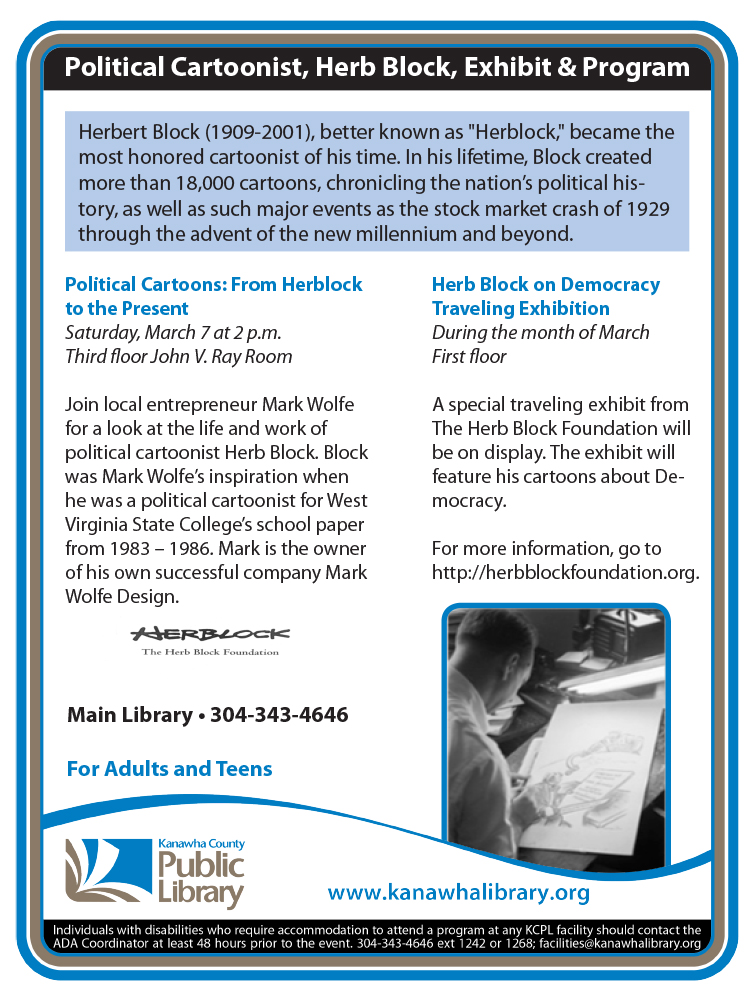 Tweet